Tweet #E2TG
One of our very first Bands of the Week - way, way back in mid 2011 was Nashville-based The Redding Brothers. This is the band that back in the day, wrote, recorded, and released a song every Saturday Night at Midnight. More recently, we have posted some tracks from the solo debut by Gabriel Redding which was called Untethered. Well, Gabriel is in the midst of something pretty remarkable. Here's the details from his website.
GABRIEL is following up his bicycle ride across America by running across America to benefit those with Alzheimer's and Dementia, and specifically his grandfather, who has developed both. The run will start on June 7th in Santa Monica, CA and end on July 19th in St. Simons, GA, covering 2,413 miles in a world record breaking 43 days. Please support him in any way you can! If you would like to donate supplies such as energy bars, energy drinks, protein shakes, bottled water, or anything else, please contact gabrielredding@gmail.com
If you would like to sponsor the event monetarily, please click on the button below, or send a check made payable to Gabriel Redding to:
Gabriel Redding
Alzheimer's Run
4007 Wisdom Way
Smyrna, TN 37167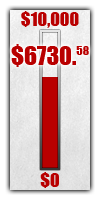 Buy a T-Shirt to support the event!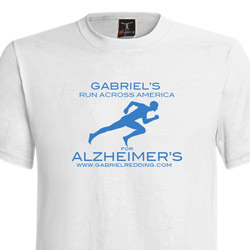 Gabriel is half way through his run. If you are able, please show some love for this remarkable feat and the great cause. Here's video released yesterday...
-->